GTI - THE Leading Hub of Further Education in the West!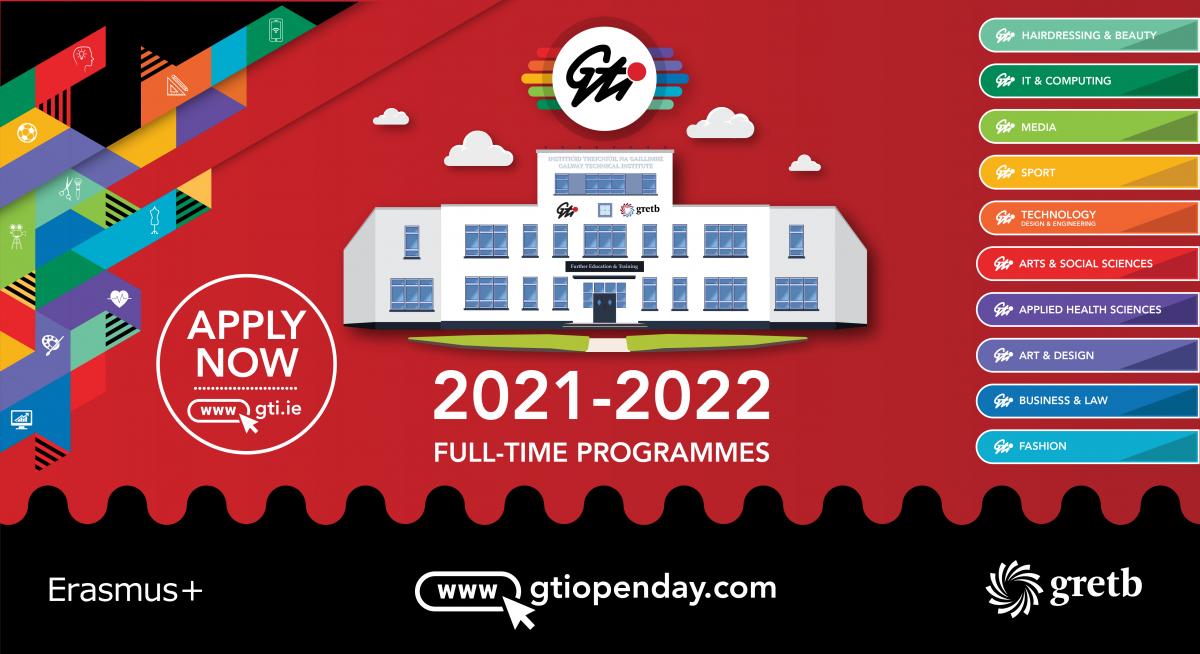 GTI is one of the leading colleges of Further Education in Ireland, providing QQI Level 5 & 6 courses to over 1,100 learners annually. At GTI, courses are designed to be of immediate and practical use in the workplace or as a stepping stone to further study and higher qualifications. Everything our students learn will be valuable to them throughout their lives.
Our Applied Learning approach is designed to enable students learn more effectively in real-life situations. Applied Learning provides our students with learning experiences that involve solving problems that are based on real-life situations. This involves learning the role of a sound engineer, in GTI's state of the art sound recording studio,  film editor or production co-ordinator at CladdaTV.  It may also involve working as a Beauty Therapist in GTI's Poise Salon, or as a designer in GTI's Annual Fashion Showcase. Each department has its own unique real-life, real-time production/event/project. By bringing the real world into the classroom and the classroom into the real world, Applied Learning has become the most effective and exciting way to learn the key skills required for the 21st Century. GTI's underlying philosophy is about learning together. This is centred on learner activity, collaborative learning and critically, learning to learn.
Facilities at GTI include recording studios, creative digital media laboratories, hairdressing and beauty salons, furniture design workshops, fashion studios plus a wide range of specialist IT facilities. Our European Links provide work placements abroad for over 100 GTI students annually. Students currently travel to France, Portugal, Spain, Finland, Italy, Turkey, Scotland and the Canary Islands. These placements are fully funded and afford students the opportunity to gain valuable work related training in institutions and enterprises throughout Europe. Details of all the programmes listed in this publication you can download
Mission
GTI's mission is to develop the knowledge, skills and competencies of our learners by designing programmes that are innovative and of high quality, and to deliver the programmes in a learning environment that reflects the complexity and challenge of a changing world.
Admissions Policy
GTI Admissions Policy 2021-2022 can be viewed here
Awards
Certification is provided by QQI, CIDESCO, ITEC, CIBTAC, City & Guilds, FAI, GAA , Junior Trades, Senior Trades, ATI [Accounting Technician Ireland]
GTI offers further education courses in the following areas:
Applied Health & Social Sciences
Art & Design
Business
Technology - Design & Engineering
IT & Computing
Fashion
Hairdressing & Beauty Therapy
Media
Sports 
General Studies
Projects for Applied Learning
GTI FASHION SHOWCASE
GTI's annual Fashion Showcase  - organised, produced, managed and presented by students from GTI's Fashion Department.

Learn the skill of furniture making and design in custom designed workshops. Furniture is designed and made in the workshops of GTI, where designs are brought to life using native hardwoods. Students create unique and inspirational furniture items for the home or commercial use.

GTI's exclusive beauty salon and health science therapy centre. Open to the general public, two days per week, this facility presents students with the opportunity to perfect their skills whilst also learning the skills to manage a health treatment centre or beauty salon.

GTI's Hairdressing Salon. Established in 2006, Concept Hair Studio is a fully operating hair salon, open to the public, providing students with the opportunity to apply and perfect the skills learned in the classroom.

Media students create, edit, produce and present digital content for Claddtv. This allows students the opportunity to work in a real world media environment, using the most technologically advanced equipment whilst being guided by professionals in the field. www.claddatv.com

Music Technology/Sound Production students operate the GTI Recording Studio. GTI students work alongside local, national & international singers, performers and musicians. Again, the emphasis is on 'learn by doing', a hands-on, real-life experience.

GTI's online radio station offers students an opportunity to develop presentation, production and technical radio skills in a real world setting while providing news, entertainment and a voice for the entire college community.