Miss Earth Ireland Competition- GTI Beauty Graduate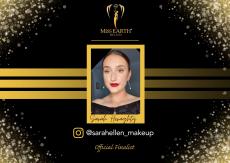 GTI wishes Beauty graduate Sarah Heraghty every success as a finalist in the Miss Earth Ireland competition.
'𝘔𝘪𝘴𝘴 𝘌𝘢𝘳𝘵𝘩 𝘐𝘳𝘦𝘭𝘢𝘯𝘥 𝘪𝘴 𝘢𝘯 𝘢𝘯𝘯𝘶𝘢𝘭 𝘦𝘯𝘷𝘪𝘳𝘰𝘯𝘮𝘦𝘯𝘵𝘢𝘭𝘭𝘺 𝘵𝘩𝘦𝘮𝘦𝘥 𝘣𝘦𝘢𝘶𝘵𝘺 𝘱𝘢𝘨𝘦𝘢𝘯𝘵 𝘸𝘩𝘪𝘤𝘩 𝘴𝘦𝘭𝘦𝘤𝘵𝘴 𝘵𝘩𝘦 𝘐𝘳𝘪𝘴𝘩 𝘳𝘦𝘱𝘳𝘦𝘴𝘦𝘯𝘵𝘢𝘵𝘪𝘷𝘦 𝘧𝘰𝘳 𝘔𝘪𝘴𝘴 𝘌𝘢𝘳𝘵𝘩, 𝘰𝘯𝘦 𝘰𝘧 𝘵𝘩𝘦 𝘣𝘪𝘨𝘨𝘦𝘴𝘵 𝘪𝘯𝘵𝘦𝘳𝘯𝘢𝘵𝘪𝘰𝘯𝘢𝘭 𝘱𝘢𝘨𝘦𝘢𝘯𝘵𝘴 𝘪𝘯 𝘵𝘩𝘦 𝘸𝘰𝘳𝘭𝘥. 𝘛𝘩𝘦 𝘤𝘰𝘮𝘱𝘦𝘵𝘪𝘵𝘪𝘰𝘯 𝘴𝘵𝘳𝘪𝘷𝘦𝘴 𝘵𝘰 𝘱𝘳𝘰𝘮𝘰𝘵𝘦 𝘦𝘯𝘷𝘪𝘳𝘰𝘯𝘮𝘦𝘯𝘵𝘢𝘭 𝘢𝘸𝘢𝘳𝘦𝘯𝘦𝘴𝘴, 𝘤𝘰𝘯𝘴𝘦𝘳𝘷𝘢𝘵𝘪𝘰𝘯, 𝘴𝘶𝘴𝘵𝘢𝘪𝘯𝘢𝘣𝘪𝘭𝘪𝘵𝘺 𝘢𝘯𝘥 𝘴𝘰𝘤𝘪𝘢𝘭 𝘳𝘦𝘴𝘱𝘰𝘯𝘴𝘪𝘣𝘪𝘭𝘪𝘵𝘺'.
Such a fantastic achievement. Best of luck Sarah from all at GTI.