Leaving Certificate Student Q&A Information Session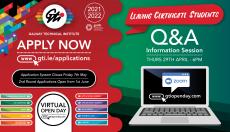 Leaving cert students are invited to join us this Thursday 29th April at 6pm on ZOOM, for a Live Q&A Information Session. Log on to www.gtiopenday.com and chat with a member of our guidance team if you have any questions in relation to the fantastic opportunities available by studying at GTI.
Click HERE to view the GTI digital prospectus, student testimonial videos and explore our exciting range of full-time programmes for 2021-22. Our application system remains 𝗢𝗣𝗘𝗡 until Friday 7th May, so 𝗔𝗣𝗣𝗟𝗬 𝗡𝗢𝗪 at www.gti.ie/applications to choose a course that will take you further.