GTI's Applications System is OPEN for 2023-24!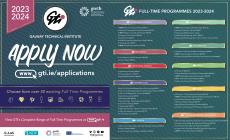 GTI's applications system is OPEN for 2023-24! APPLY NOW for our full-time programmes at www.gti.ie/applications and make things happen for you at GTI.
With NEW courses to choose from and progression opportunities to third level, employment, and apprenticeships, visit the GTI website for full details of all programmes available.
NEW full-time programmes include:
𝐍𝐄𝐖* Advanced Certificate in Animal Science 6M5153

𝐍𝐄𝐖* Occupational Therapy Assistant 5M3782

𝐍𝐄𝐖* Physiotherapy Assistant 5M3782

𝐍𝐄𝐖* Social, Equality and Disability Studies 5M2181

𝐍𝐄𝐖* Social, Policy and Family Studies 5M2181

𝐍𝐄𝐖* Social Studies and Youth Work 5M4732

𝐍𝐄𝐖* Advanced Beauty Aesthetics (Non-Medical)

𝐍𝐄𝐖* Advanced Cert in Software Development 6M0691

𝐍𝐄𝐖* Global Media and Online Journalism 5M5048

𝐍𝐄𝐖* Theatrical, Media and Fashion Make-Up ITEC Diploma