GTI's Application System has Re-Opened for 2021-22!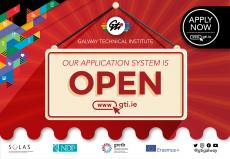 GTI's Application System has now re-opened for 2021-22!
Log on to www.gti.ie to view our dynamic range of QQI certified Level 5 & 6 courses across our 10 departments, & Apply Now for full-time courses that will make things happen for you at GTI in 2021.
Choosing to study at GTI will give you access to a range of fantastic facilities, student/ career supports, Erasmus+ opportunities, established links to 3rd level & employment progression, along with much more. With student grants available and NEW courses on offer, Go Further with GTI. All applicants will receive information regarding pre-entry guidance meetings in the coming weeks and offers of places will issue week commencing June 28th to applicants that have already attended a pre-entry meeting.
Click Here to apply for GTI Full-time courses: https://www.gti.ie/applications/
View our Student Testimonial videos 𝑯𝑬𝑹𝑬
Browse the GTI Digital Prospectus for 2021-22 𝑯𝑬𝑹𝑬