GTI Staff Retirements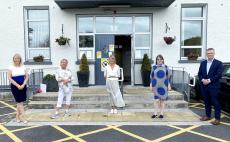 GTI wishes our two cherished colleagues, Anne Jennings and Mary McGuinness a very happy and well earned retirement. Anne has been a teacher at GTI for 36 years, playing a significant role as a student counsellor, providing project support, along with her key role in social media. Mary has been a teacher at GTI for 24 years, supporting the student voice through her involvement in the student council and her key role in charity fundraising throughout her time at GTI.
Thank you to both Anne & Mary for all your hard work and dedication during your time at GTI. You have both made such an invaluable contribution to the school over the years. Congratulations on your retirement from all the staff and students at GTI. 
(Pictured L-R: Alison Ward- GTI Deputy Principal, Anne Jennings- GTI Teacher, Geraldine Gibbons-GTI Principal, Mary McGuinness- GTI Teacher, & John McLoughlin-GTI Deputy Principal)