Fashion & Sustainability Instagram Event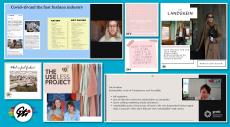 Congratulations to the GTI Level 6 Fashion students who organised a fantastic online Fashion & Sustainability day on Instagram yesterday. The event consisted of the students arranging guest speakers along with sharing useful content highlighting the importance of considering the impact of sustainability in fashion. The event also forms a key part of the Team Leadership module requirements as part of the Level 6 Fashion Buying, Styling and Visual Merchandising course.
Many thanks to sustainable fashion designer, Anna Guerin from Landskein, and Geraldine & Taz from The Useless Project for guest speaking as part of the event. Well done to all our Level 6 Fashion students and their teacher Orla Sheridan. 
Click HERE to find out more about 'The Landskein'
Click HERE to find out more about 'The Useless Project'.