Accounting Technician Part-Time Course: Sept 2022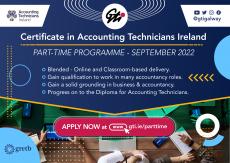 Our Accounting Technician Part-Time course is aimed at students who are interested in pursuing a career in Accounting Finance.
Accounting Technicians work in the public and private sector, industry and commerce, private accountancy practices, and family businesses.
Learners are taught key accounting concepts and principles, and the knowledge and skills required to understand personal and business taxation regulations. They will also gain an understanding of core business functions in management, marketing, and law.
APPLY NOW by clicking HERE